Yesterday we returned, exhausted, after a week's holiday to the tiny resort village of Arillas, Corfu. Prior to going I was a bit concerned that we'd be in some mega resort filled with lager louts and 24 hour nightclubs but the opposite was true. It was peaceful, beautiful and filled with nature.
We stayed at the Bardis Hotel in Arillas. Being the suspicious type, and after having multiple bad experiences with owners of hotels, houses and apartments to rent over the years, I didn't believe the sheer number of positive reviews both the hotel and its owner, Dorita, had – I figured she'd some how managed to do them herself. Here's an example – Booking dot com reviews. However, again I was wrong. While fairly simple, the hotel suited our tastes and Dorita was cool. She didn't interfere or complain, she assisted when requested and she was a genuinely nice woman. I can't recommend the place enough – although it's not for anyone who plans on drinking all night as she closes the bar at 6.
The Bardis Hotel's pool is beautiful and kept very clean. It's also the largest in the area. As there are only 24 rooms in the hotel, it's more than big enough.
The town itself was a little disappointing as it's basically just a collection of restaurants, a couple of quasi-supermarkets and some boutiques. Forget cheap fast food or kiosks. There also seems to be a bit of price fixing going on as every single meal (whether some fish dish, a Greek specialty or a take-away pizza) at every single restaurant will cost somewhere around 10 Euros.
The beach is long but thin due to a major storm they had a couple of years ago. The sea, while we were there, wasn't particularly warm but it was very clear. As with most sand beaches it takes a bit of walking into the sea until you reach swimmable depths. Perfect for young kids. However, I prefer rocky coastlines such as in Croatia as I like to fish and snorkel on holiday, nether of which were particularly possible in Arillas – plus there's basically no fish left.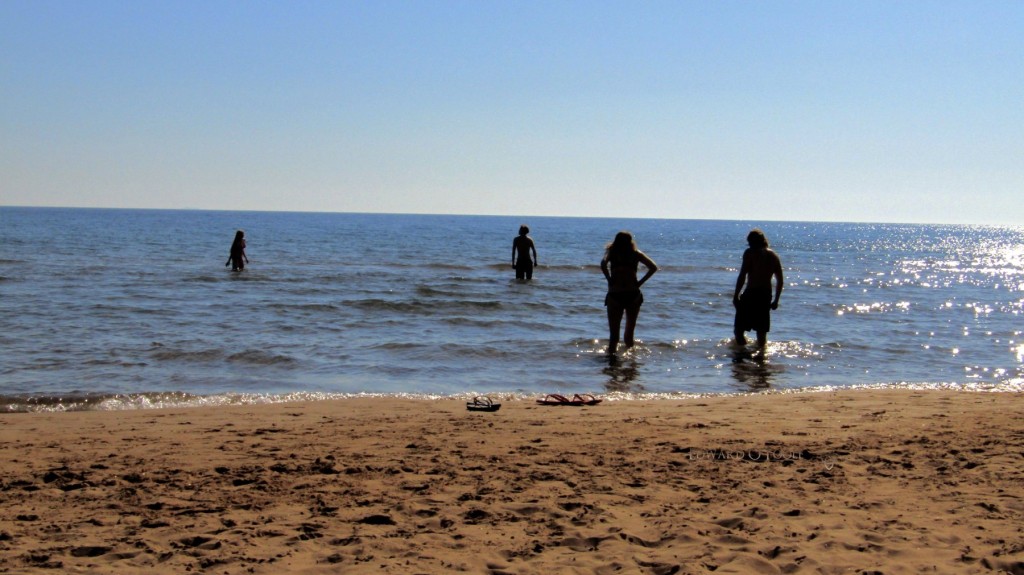 Underwater is completely visible, with the sandy sea floor looking like desert dunes. I also really appreciated having an infinite horizon. I managed to do a little bit of fishing (only a couple of bites but no takers) at a nearby beach which unfortunately required several miles of extremely hard walking (including scaling up and down a treacherous cliff path). We had problems with heat exhaustion on the way back and up.
One of the best things about the area is the sheer amount of trails which lead up various mountains. We did a lot of walking, some of which was pretty hard going. Often we'd find something completely unexpected which, along with the stunning views, made the trips even more worth doing. We're not the type to just lie on the beach…
On the cliff next to Arillas there is a small chapel where people place remembrance stones for lost loved ones. On our second trip up there we wrote the names of our own family members (and dog) who we've lost over the years and placed them in the pile overlooking such beautiful scenery. You can see the stones in the bottom left of the photo below.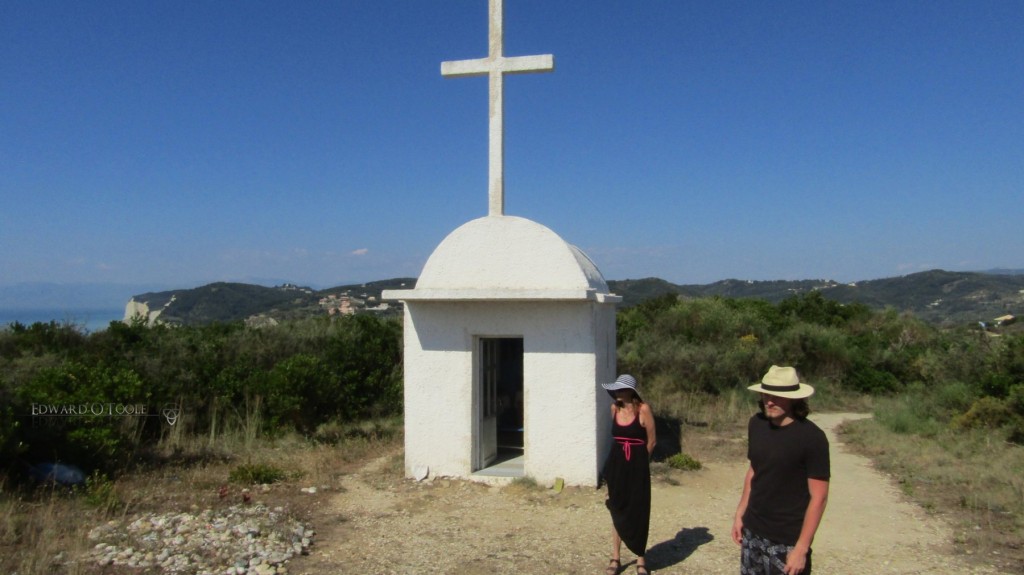 En route to the small chapel we stopped at a little old man's cottage (we'd been told about him).
There are several cafes along the way but this was a completely different and worthwhile experience. Basically, there's a little old man who lives alone with his little old dog on top of the cliff. There, you can buy fresh homemade ice cream, homemade olive oil or wine or, even better, fresh home-ground coffee. He makes everything himself and sells it for a fraction of what the more commercial enterprises charge, and all of it is gorgeous. The other reason why people head up to his is because he has several swing benches overlooking the sea (with absolutely no safety measures to stop you plummeting off the cliff…).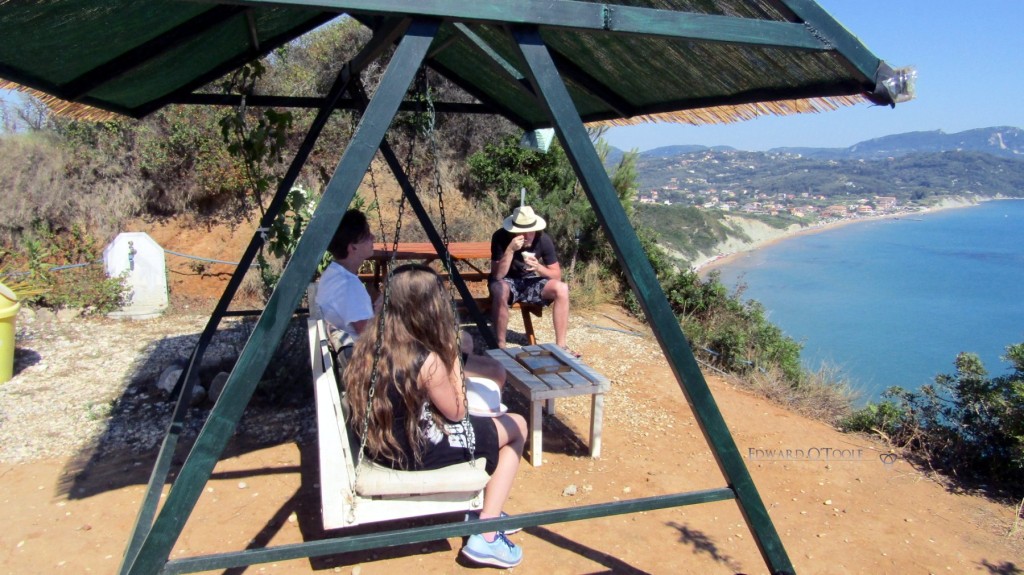 There, you can sit in the shade and enjoy completely bio-eco-whatever-friendly produce and let your sweat dry. And spend most of the time pleading with your kids to get back from the edge.
Some walks take you along Corfu's horrific country roads. Watching out for cars becomes an art form. Despite this, these roads can lead into remote mountain villages and through dark olive groves and bamboo forests. In one I found an old ruined cottage which held a surprising secret inside.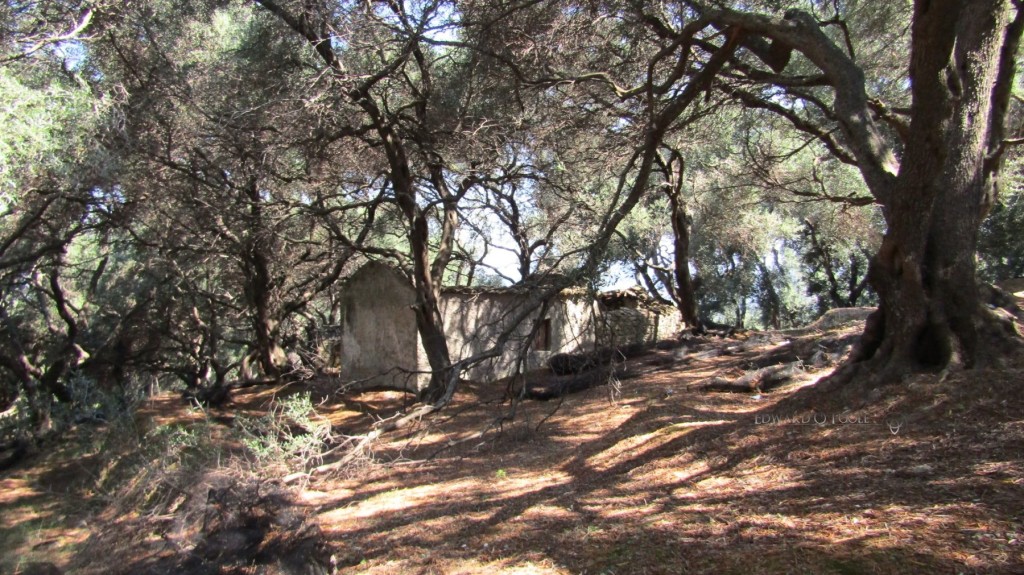 On the wall was painted a mandala, apparently by some wandering guru years ago who took up temporary residence there.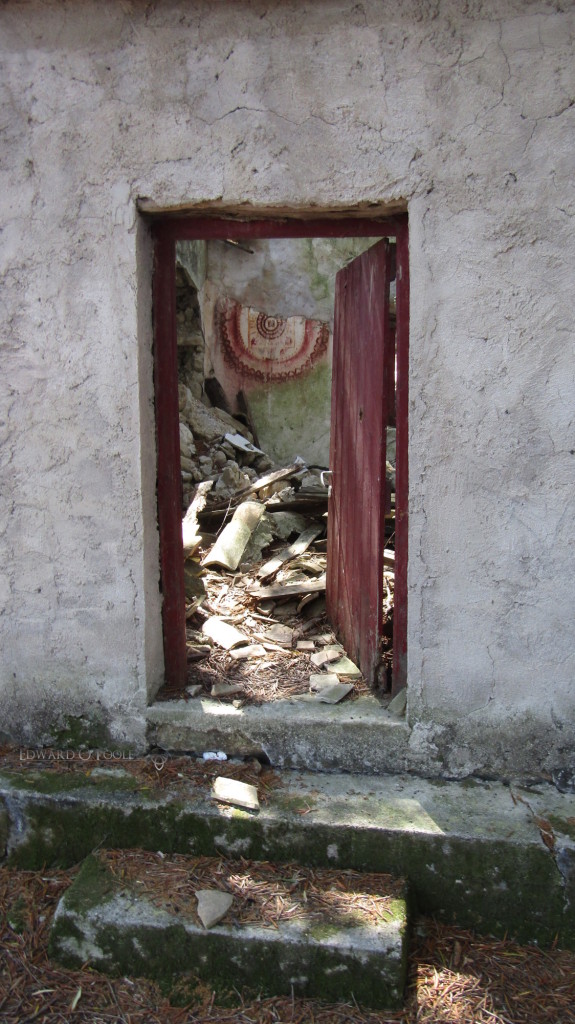 It made me think of my fist trip to Corfu, 36 years ago, as it would have been about the same time, and about Gerald Durrell. How amazing the island must have been before tourism completely took over, when it was a place for those looking to escape and live a simpler, cleaner, more spiritual lifestyle. Arillas is actually famous for its spiritual community as it apparently has some sort of positive energy which attracts esoteric visitors from around the world. We watched groups of them (mainly middle aged women) worshiping the setting sun from the pier of an evening. it was a cool thing to watch on the Solstice.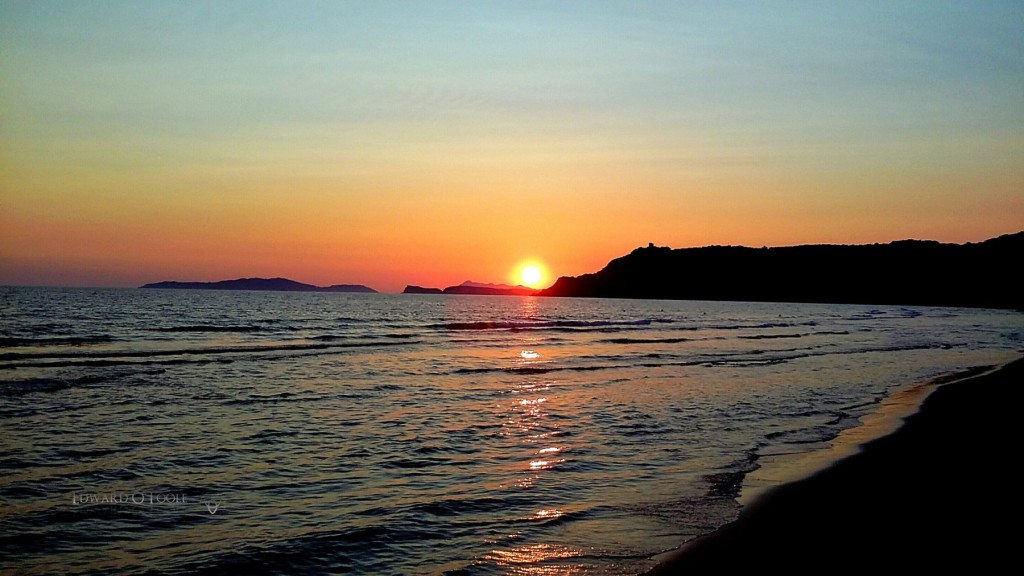 There are some cool restaurants around the area. Some of the best are those that are perched on stilts high up on the cliff-sides overlooking the sea. After walking for hours under the hot sun on steep inclines, there's nothing as refreshing as sitting on a terrace with cool air flowing around you while you drink iced mineral water.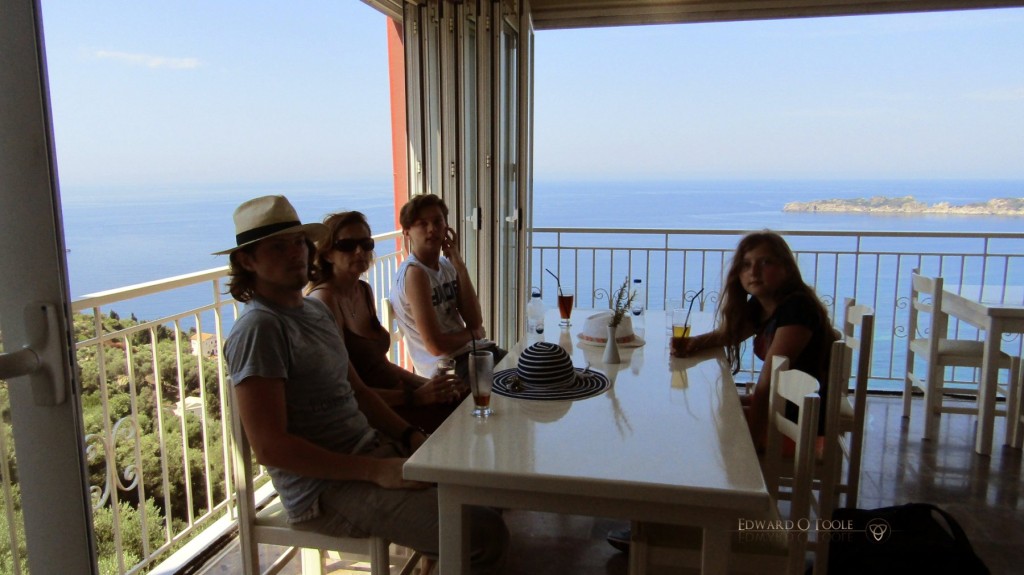 The best restaurant in Arillas itself, in my opinion, is probably Kostas.
Animal-wise I was disappointed that I didn't manage to find any of the species of snake or scorpion resident on the island, but there were plenty of lizards about (the same species we get at home, though).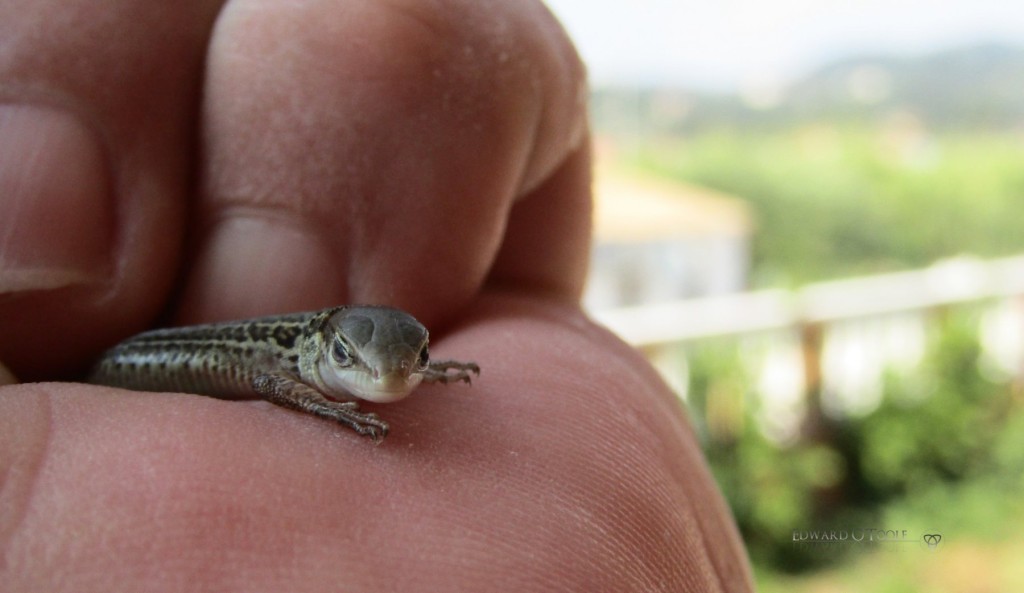 At night, geckos (Mediodactylus kotschyi) appeared. These were basically translucent and lurked under external light fixtures waiting for bugs to come near. They were extremely fast and moved across walls with ease.
It was really hard leaving. There is something magical about the place. It was extremely difficult to tear myself away from the view of the sea and the sunset. Returning home to miserable, bitter, jealous, bureaucratic people was hard and still is. I feel like some weight was lifted from my soul and I hope that I can imbue this into my planned paintings this summer and not just let it go to waste.
One song that kept going through my head all the time I was there (apart from Zorba the Geek, obviously) was Dido's Sand in my Shoes. For those who don't know it, or just need a little reminder, here it is. Her lyrics show she really, really gets it.