Having finally bought a new car after our other two became unreliable, a Dacia Duster we've named Liška (Fox), we decided to take her out on her maiden voyage and do an old fashioned roadtrip as a family.
Cerveny Klastor played a large part in my early years here as it is very close to my wife's father's village, literally a stone's throw from the Polish border in Pieniny National Park. I also tried to buy it at one stage, but that's a different story…
The road there is winding and took us over the Bardejovsky Vrchy mountain range and into the land of the immense Tatra Mountains. The monastery is about 60 kilometres from the start of the Tatras.
It's been quite some years since we last visited and it was a pleasant, cultural escape from our normal daily lives.
Thankfully it was out of season so it wasn't swamped with thousands of tourists, especially Polish, who flock there each summer. It was basically just us and about 4 other people (and about 4 middle-aged female staff) for the whole massive complex.
The courtyard of the monastery reminds me a lot of places I visited in Romania, especially with the wooden balconies. The monastery itself has a really long history, dating back to the early 1300s but mostly built in the 1700s. It has been both Carthusian and Camaldolese, and was famous for its herbalism (it still is). It was also infamous for alchemy and heresy. It's most famous resident, Brother Cyprian, was an 18th Century monk akin to Leonardo Da Vinci, and who was also, allegedly, the first man to fly. He constructed a home-made glider and flew from the top of the Three Crowns Mountain down to the monastery (pictured below, along with the famed golden sundial on a chapel):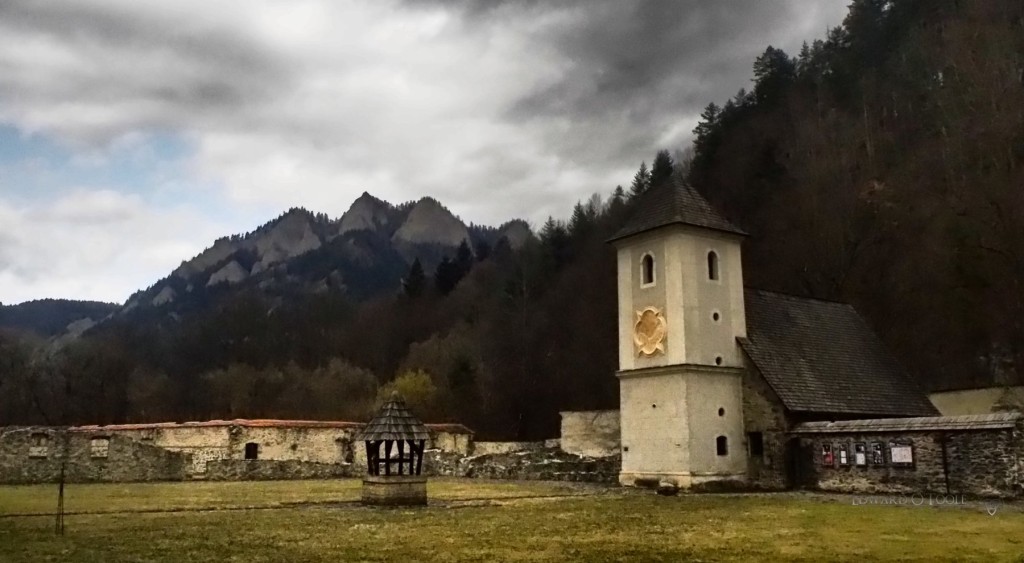 There's a Slovak film titled Lietajuci Cyprian (The Flying Cyprian). This is a song from the soundtrack, featuring the monastery and clips from the film:
Although that song sucks in comparison to Katka Knechtova's "Moj Boze" written for the Bathory film… She even wrote it in medieval Slovak. This country has some fascinating and dark history.
Ever on the look out for the esoteric, I particularly enjoyed the chapel with its incredibly lifelike eye in the triangle, bizarrely beneath a second eye in the triangle…. methinks them monks we're possibly Bogomils….
Along with some scary looking and tattered old monks' habits, I did appreciate the small office/scriptorium with a real human skull just sitting there begging to be slipped into a coat pocket and brought home:
It was amusing seeing the 'herb drying/preparation room' as my brother in-law's family do this as a business, exporting locally sourced herbs to Western Europe for use in teas and medicines, etc, although on a much larger scale. The principle hasn't changed, though.
We finished off the tour in the monastery's tavern, where we ate pork-scratching-lard smeared on day-old black bread, and covered in raw onion. Alex, my younger boy, had a hot beer with honey, while my eldest boy had to begrudgingly turn down a 15* unpasteurised beer because he and his mate have bet each other they won't touch alcohol for a month. Again.
On the way home we stopped at a roadside restaurant in the Bardejovsky Vrchy mountains and had pizza. The room in which we sat was covered ceiling to floor in dead animals and antlers. Behind the restaurant, in a valley, is a large Roma ghetto. In the montage below you can see a Pine Marten, a Wild Cat and a wolf. And the room was small so these dead beasties were up close and personal.
Brexit looms and visiting the Red Monastery with my now grown up children really made me aware of the fact that I've lived out here for almost 21 years. And still the adventure continues…
condemnant quod non intellegunt