It's  a very long way to Peljesac, Croatia, and it's an even longer way back…
This summer holiday we rented a place on the sea in a remote area of the southern Peljesac peninsula (6kms to the nearest basic shop – that's remote). As usual we drove south through Slovakia, then went from the East to the West of Hungary before crossing into Croatia. However, instead of heading down the motorway south we took a detour to go see (and stay at) Plitvicke Jazera national park, which is famous for its waterfalls and a wooden walk way across lagoons.
Once done there (and we got caught in the biggest rain and lightning storm I've ever been in trying to get back to the car – plus we got completely lost and couldn't find the car park entrance so we just got more wet), we headed cross country, following the still-damaged Bosnian border region. The countryside there is stunning with massive mountains and huge flat valleys. It really looks Jurassic. We had to leave Croatia and enter Bosnia-Herzegovina through the coastal town of Neum, then back into Croatia again because we were so close to Dubrovnik. An untold number of hours later we reached our destination, a tiny hamlet on Peljesac. If nothing else, this place definitely had the biggest balcony/terrace hanging over the sea that I've ever rented – 150sqft.
Due to the immense storms which plagued our journey (and expeditions) for the two days it took to reach the place, and the fact that the drop off into bottomless deep water was only about 15 feet off shore, the water for the first half of the holiday was too cold to endure. Hot sun, cold waves. I did get some snorkelling in but the water was cloudy and silty with turbulence from the storm so the photos turned out useless.
We did a few trips about the place. One unexpected gem, which  we discovered merely through accident and curiosity, is the tiny village/town of Janina where we did our shopping. Just up from the car park which graces the two tiny shops is the old part of town with meandering tightly spaced roads and beautiful ancient buildings.
Our big trip was to the town of Ston, where we paid an extortionate amount of money (like everything and everywhere else in Croatia) to climb the second longest fortified wall in the world (second only to the Great Wall of China). My eldest boy, Brano:
That walk was both crippling and terrifying, and my younger boy Alex fell badly on some stone steps and gashed open his knee. I kicked myself for not having a first aid pack on me but we managed to improvise and stem the bleeding.
As usual we tried the local food – figs from a booth at the side of the road, a kilo of fresh fish caught in baskets by a fisherman outside the house, and raw oysters grown only feet away from where we shucked and ate them.
The entire area is surrounded by vineyards, fig and olive groves so we got some local wine, olive oil and wine vinegar to take home. And my most impressive purchase was 10 kilos of local sea salt, which is still sitting in the back of the Discovery because I'm not really sure what to do with it…
Just like at home we walked several miles every evening. We had quite a major incident while out there alone and unarmed with a lone Golden Jackal, but you can read Bushcraft Magazine's upcoming Summer issue for more details on that one. The wildlife there was really impressive and quite different to where I live. Two impressive sights I saw were a short-toed snake eagle fighting mid air with a seagull over our terrace, and a pair of hoopoes flitting about the place. I managed to find a dice snake (thanks Steve for identifying it!) and a couple of tortoises to play with.
My boys also made friends with a visiting American boy, a young lad from California named Danny, who has his own gaming channel. If you ever read this then stick to your dreams, Danny. You'll make it one day.
It was sad to leave and, even after trying as best we could to plan the return journey to avoid traffic congestion points, we had no idea just how bad it would be. 17 hours of hard motorway driving in the boiling heat in an old Land Rover Discovery TD5 with 4 immense traffic jams to churn the clutch and overheat the engine in. I truly didn't believe she would make it home as she was massively overheated but it was much worse for my wife who suffered diesel exhaust fumes or carbon monoxide inhalation poisoning. Every time I pressed the accelerator the stench of diesel came up through the already baking footwell area. We made it home and her clutch gave out as I was reverse parking outside of the flat. My wife literally and physically collapsed just inside the Slovak border, 3 hours from home, and I had to stay awake most of the night to monitor her breathing. She still hasn't recovered properly.
When I checked the trailcam to see who'd been visiting my house while we were away, I discovered that a red deer hind and her newborn fawn have been grazing the clover in my garden (the fawn was born just outside my neighbour's fence).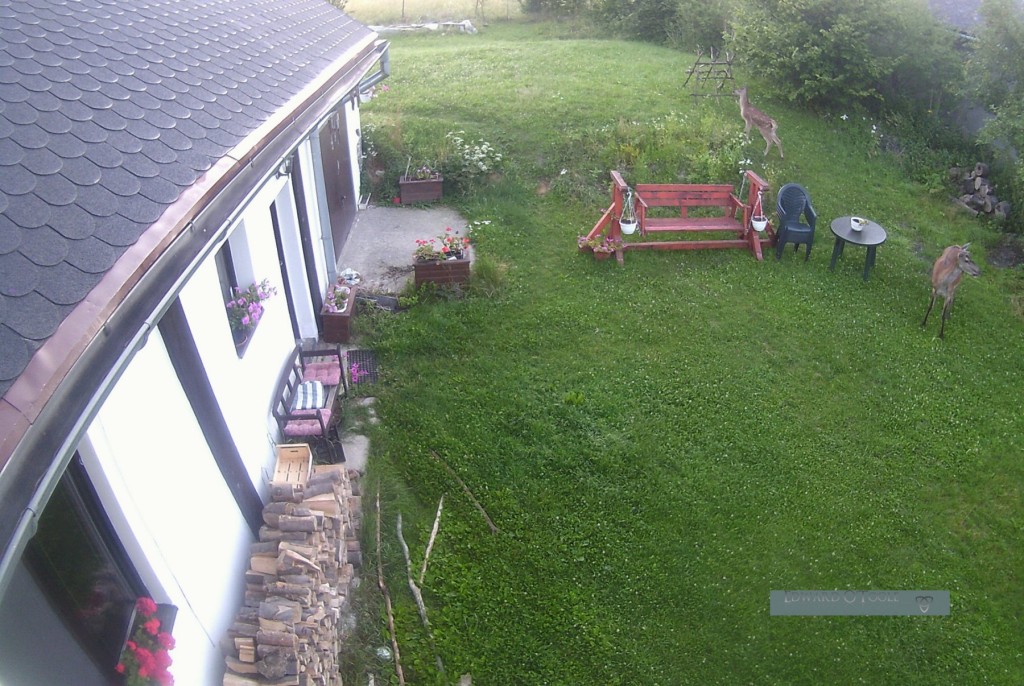 I miss the heat. Summer here looks like it's really going to suck.