This week Slovakia celebrated its independence from Communism. As it was a bank holiday, many traveled to the capital to protest the government's lock down policies. Our little family instead made the 2-hour trip to Pieniny National Park, by the River Dunajec, to visit my wife's father's family home. We usually do this for All Saints' Day, as we lay wreaths and light candles on the graves of my wife's ancestors, but this year there were travel restrictions in place and cemeteries were closed.
En route we always stop at a petrol station (as it was a bank holiday, everywhere else – restaurants, shops – was closed) and have coffee, stretch our legs, etc. It's in the town of Stara Lubovna and sits just beneath the castle Lubovniansky Hrad.
Just after Stara Lubovna, we take a right turn and follow a winding single-lane road for half an hour through staggering, increasingly mountainous, countryside before taking another right turn and making the steep climb up and down a hill with incredible views of the surrounding area and the Tatra Mountains in the distance. There, my wife and kids often drink some mead sold at the little booth as it's really not warm at this time of year.
After visiting the cemetery we check out the piece of land we were gifted and haven't done anything with. It's on a steep slope so would require a lot of skilled bulldozing and support-walling to make it usable. The dirt road to the land is mainly used by lumber trucks and Polish hikers. Maybe one of my kids will build something there one day.
Again relieved that no-one had built on it or skanked the land, we headed down to the River Dunajec to take a walk. As the border to Poland is currently closed (Poland is literally the other side of the river), there were only a handful of other people there out hiking.
There was a lot of damage to trees caused by beavers along the river front, although I've no idea where their dams are as the river is much too fast flowing for them.
We then made our way to my wife's father's ancestral home – it's like a living piece of history surrounded by the modern constructions going up around it.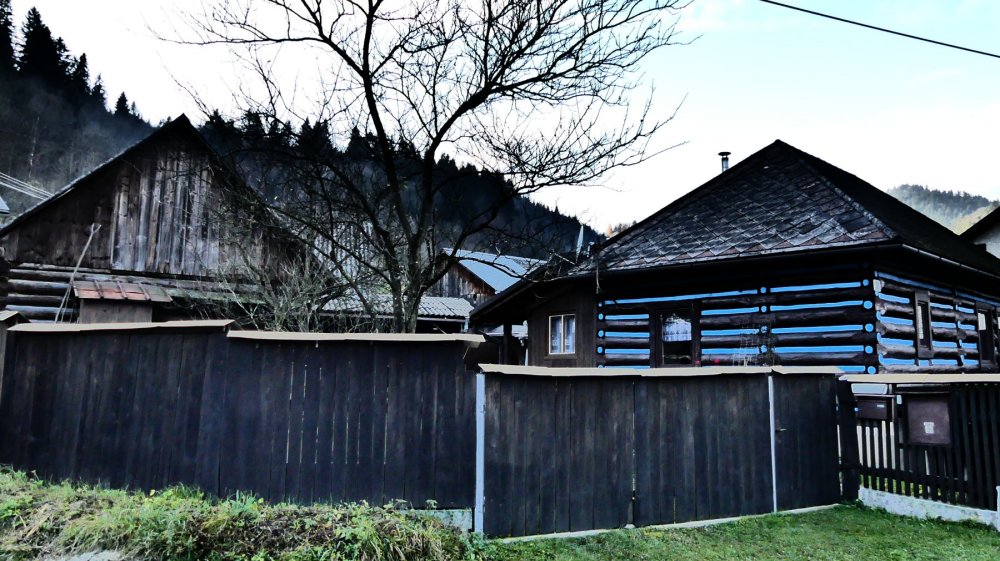 My wife's uncle and aunt live there, pretty much like how they've always done. Outside the temperature was around 5 degrees but inside it was 27 thanks to the old ceramic stove. The kids spent the time listening to my wife's uncle Jan speak about their grandfather when he was young while drinking 52% homebrew (excluding my daughter, of course). 5 of them used to live in a single-room wooden cottage in that remote valley in the mountains. Life was hard. This is a photo of Jan as a child:
73 years old, a couple of years back he lost an eye in an accident, and this year he had to have a venal bypass in his neck, but he's still hard as nails. As he has enough seasoned wood and planks to build a street of wooden houses, I asked if he could give me some planks so I could make a stand for our television. He wasn't happy that I hadn't given him notice as he'd have made me one properly, but he eventually acquiesced and cut some nice thick fir (4.7 cm). My eldest boy helped while he sawed away. Now I've just got to assemble it all myself, which means a trip into Bardejov to get the metal struts and wood glue.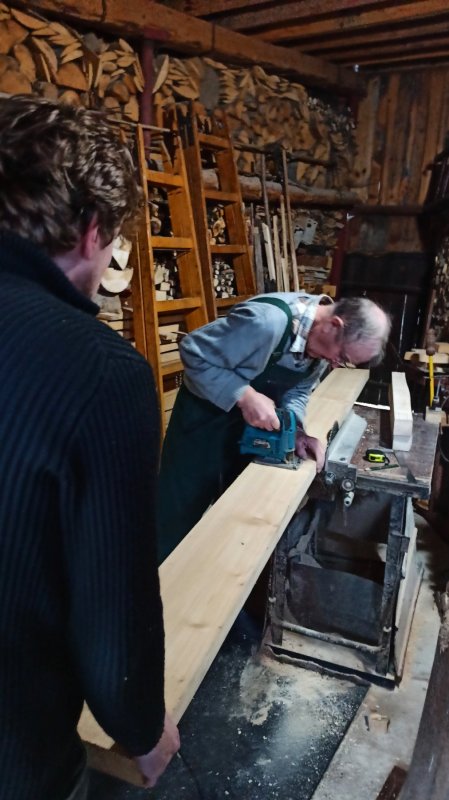 In one of his outbuildings he's got a Zetor tractor which he uses to go into the hills to cut down trees for wood, which he then turns into planks using his own home-made saws and plank maker. In another outbuilding he keeps an old Babetta scooter.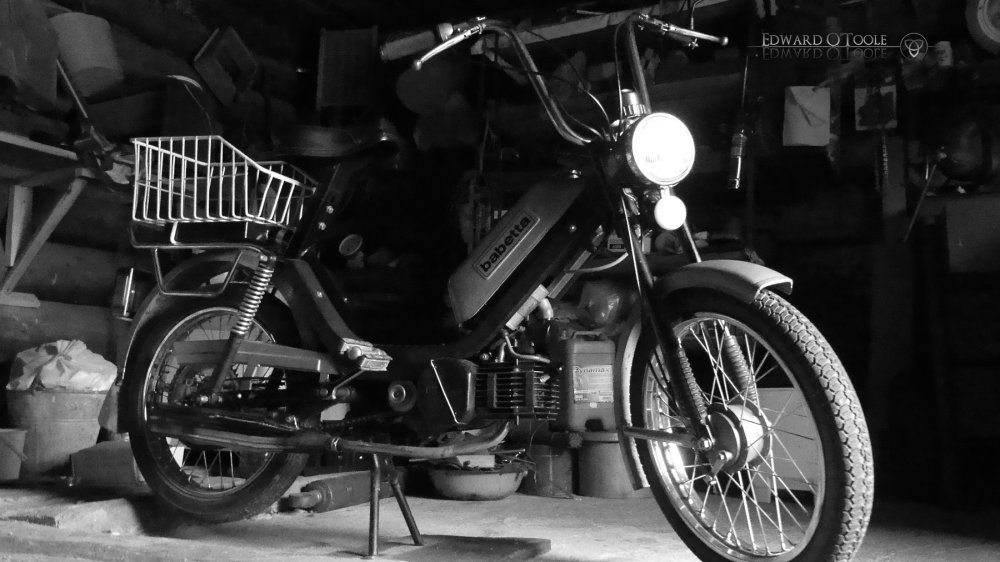 It was a long day and we didn't return home until after dark but it's important that the kids understand their origins, and how much easier they have it than the generations preceding them. They also love hearing the old stories from a completely different world to the one they now live in.