This year started with multiple open casket funerals (with a few more interspersed throughout the year) – thankfully none of club members – but on the whole it was one of partying and travelling around the country to visit the numerous events hosted by other clubs. We also managed to improve our relations with the town and began taking part in community events.
We attended weddings: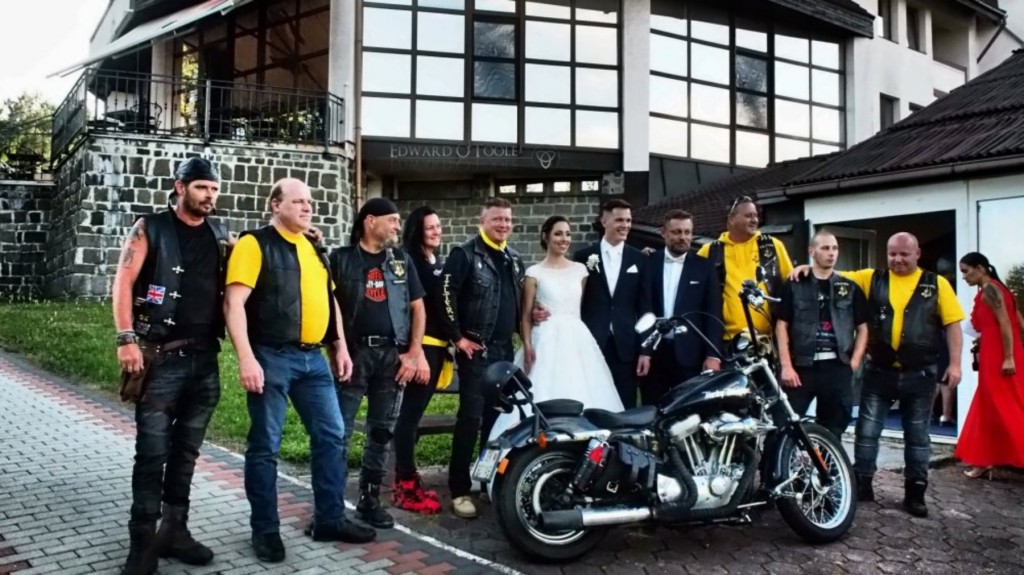 and had quite a few closed parties for ourselves:
We attended the huge motorcycle festival at Drienok:
Thanks to close relations with the new Lady Mayoress of Svidnik, Marcella Ivancova, we organised a run (for both club members and non-club motorcyclists) and showed off our bikes at the Svidnik Dni festival in the centre of town:
We attended the opening of the New Riders of the Apocalypse's clubhouse in Poprad:
We also attended the 70th birthday party of a renowned Slovak biker (there were a lot more people than can be seen in the photo as clubs and motorcyclists from all over came to pay their respects…):
We attended a big club birthday party at Lake Sirava near Michalovce, although I can't remember if it was hosted by Demon Proximum or Diablov Jazdec…
We took part in the Zatvoracka (close of season) organised by Wild Horses MC and Trinitas MC, riding from Presov  to Kezmarok to Zdiar in the Tatra Mountains and then back to Svidnik in absolute pissing down rain and hurricane winds the whole way back. Sadly, we hosted the Otvaracka (open of the season) this year and it was basically rained out, meaning very few made the long trek to our town.
And of course we organised a charity event on St Nicholas' Day (December 6th), where through sponsors we bought presents and handed them out at the Svidnik Hospital children's ward, plus brought along two girls dressed as the traditional angel and demon to act out a children's fairytale. We then moved on to the town centre where some of our members insanely rode behind Santa on his horse on ice and snow and sub zero temperatures, where we then handed out sweets to all the young kids taking part in the town's Christmas party. My Gods that was a freezing event but when the town switched on the Christmas lights, and with snow all around, it made me feel good.
All in all it was a good year, and it ended as always with our St Stephen's Day (Boxing Day) party:
This year will be a bit different for me as I'll be starting 2020 as the newly elected President of Tilters…