Well, it's been a strange couple of weeks. The week leading up to Hallowe'en, the Slovak government decided to lock down the country again and restrict travel. Out here this was a major thing because it coincided with one of the biggest religious festivals – Dušičky – All Saints' Day. In Slavic countries, this is where every single person returns to their home regions to clean and lay wreaths on their family graves, light candles and remember and pray for lost loved ones. Just like at Easter, another major transit period when the entire population heads home, the government banned it. All cemeteries were locked and patrolled by the police.
And then, on Hallowe'en itself, the government conducted the largest logistical exercise in the country's short history – every person was required to go and get tested for Covid-19. It wasn't mandatory but if you didn't go and get a negative result then you were (and currently still are) quarantined at home for 10 days, as if you had registered as positive. This means no work, no sickness benefit, no shopping, etc. It definitely wasn't a popular action, and we have to repeat it this weekend as apparently being negative doesn't actually mean you're negative, but people, myself included, did it out of necessity.
The pandemic is affecting many aspects of my ordinary daily life. I have to wear a mask whenever I'm out, I now have to carry a negative certificate with me at all times in case stopped. I haven't been to a meeting of Tilters motorcycle club for several weeks (and probably won't this evening either) because no more than 6 people are allowed to gather. So many motorcycle club events around the country have been cancelled this year. Several of our members work abroad in Germany and teh Czech Republic, and they often have problems getting back home because of border restrictions.
However, Slovakia, unlike many other countries, does permit one activity which makes life for us living out in the bush much more bearable – we can go into the countryside. It's just large urban centres which really suffer from lockdowns. Especially at this time of year, late Autumn, villagers need to do so much preparation in order to survive the coming harsh winter. It's easy to picture a remote Carpathian village as being quiet, tranquil and idyllic but in late Autumn it's an extremely noisy place – the constant sound of chainsaws, circular saws, tractors and dogs barking goes on from morning till dark.
This year we have spent much longer at the house than we would usually because both boys are home from university for distance learning and we need the space. We basically moved when the first lockdown was announced in March. My poor daughter also has distance learning, which means she sits in front of a monitor from 7.30 till 2pm every day with only 5 minute breaks between lessons with no contact with her peers. That is something I'm really not pleased about. It also ruins her enjoyment of watching films or doing graphic design on her drawing tablet because she spends so much time using the computer for school. Distance education needs to find a healthier method for children.
Because we're spending so much time here (I can't imagine living in a flat during lockdown), it means we're burning through our wood supply.So, we arranged to get some more wood from the forest. This was made extra difficult because the head of forestry for the village (you can see him with me in the Nat Geo film up in the shooting tower) came down with Covid-19 and, because he's getting on in years, it hit him pretty hard. Also, the tractor driver broker his leg so his son was having to fill in for him for a while – and it's a treacherous and muddy steep incline up to the logging areas. But we did it.
As usual, my sons travelled up there on the trailer and helped me load logs into it. This time the wood was really good, but that meant each piece weighed 25 to 40 kilos. Dead lifting 4 cubic metres of that up into the air is hard going. Then, when it's back at the house and dumped on our parking area opposite, it has to be carried or wheelbarrowed into the garden and dumped by the woodshed – and then all of it split and stacked. This new stuff won't be ready until Spring, but sometimes Winter lasts into April so we'll definitely need it. It's a really reassuring feeling knowing you have a decent wood supply. There have been years when we've run out and it's scary.
Because this year has been one long downpour, our parking place became a muddy swamp with deep ruts. It was becoming extremely difficult to get in and out of it, so we ordered 12 tonnes of macadam stones and set to work layering it.
Thus far, we've only put down one layer – and that's already covered in fallen leaves. The plan is to leave it until after the heavy snowfall during Winter and then in Spring use the rest as a second layer. A friend of mine has offered to send one of his workers with a jack hammer to break it all up and compress it, but I'll wait until after the snow thaws. Most of the stones will have disappeared into the mud by then but they'll make a good hard base level.
This week I had to go into town twice to change the tyres on both our daily-use cars to Winter ones. Next week temperatures will plummet (we already have zero at night) and Winter tyres are both mandatory and a necessity. I still have to change the tyres on the Discovery but that will mean recharging the battery again. I only changed it to Summer tyres a couple of months ago because the valves on two tyres had rusted away, meaning constant flats. Changing all tyres twice per year on 3 cars is both expensive and time consuming. I'm just lucky that I managed to get them done because of cancellations this week. I've left it too late before and it becomes extremely dangerous to drive.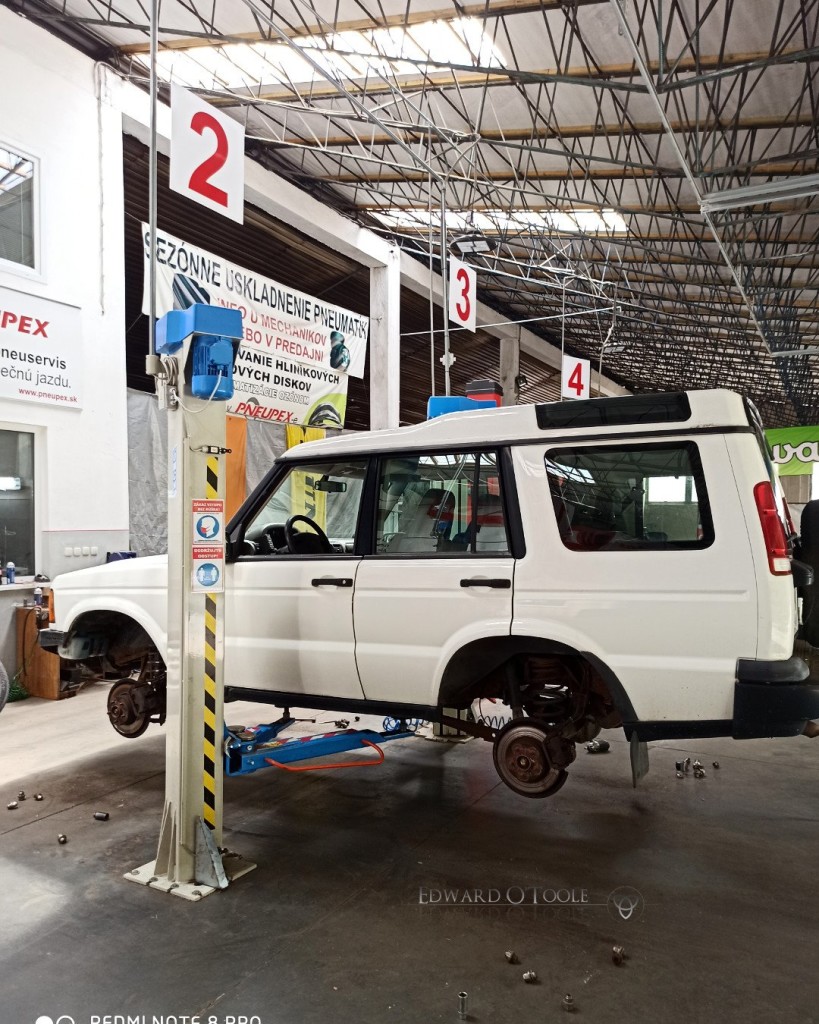 Having so much time on my hands and not wanting to feel depressed or bored, I decided to focus my efforts on something constructive, creative and positive. Firstly, I got my kids to design me a new logo for Carpathian Adventure (my eldest boy's concept and my daughter's graphics):
This will be used for my old blog (which I really do plan on revamping but I'm still using this one…) at carpathianadventure.com, plus I plan on using my Carpathian Adventure Youtube channel more. In fact, I've even released my first film on it… Each year at Hallowe'en, the kids and I watch some horror films and then we make up scary stories to tell each other. For a change this year I decided to spend the week leading up to Hallowe'en actually making a film – about Leshy, the Slavic spirit of the forest. For those of you who have read my true scary forest stories you will know that we have encountered Leshy on several occasions in the past. Living where I do, surrounded by ancient Carpathian forest, Leshy is a factor of life.
The film was a bit of fun but it was hard and massively time-consuming to make. I had to learn an awful lot about the software and the hardware. The end result was far from professional but the next one should be much better. I also really enjoyed watching it with my kids and listen to them critique it – covering everything from lighting to to scene length, lack of shot variety, etc. The important thing is just to get out there and try doing things. The end result can always be improved upon – but not if you don't give it a go first.
You can watch the film Leshy here. (please be aware that it is now the edited and much better version 2…)
During these really uncertain and trying times, it's vitally important to give yourself short term goals (as long term is sort of out the window for now). The worst you can do is just sit there feeling sorry for yourself and worrying. Everyone needs a distraction and it's a perfect time to experiment, to try doing things you've always wanted to have a go at but never had the time before. For example, painting a picture, writing poetry, making a short film, etc. Don't worry about the outcome, it's the doing bit that's important. Share the finished product with your friends and be open to criticism – don't expect your first attempts to be perfect. That's what puts most people off even trying, that they compare themselves to the many professionals already out there. Just remember that you're doing it, partially, for your own sanity, not to make a career from it.
This year my younger boy took charge of Hallowe'en, and I'm glad someone will take over the family tradition. He and my daughter spent hours working on an amazing pumpkin – and it's a giant one this year. Their inspiration was the Cheshire Cat from Alice in Wonderland –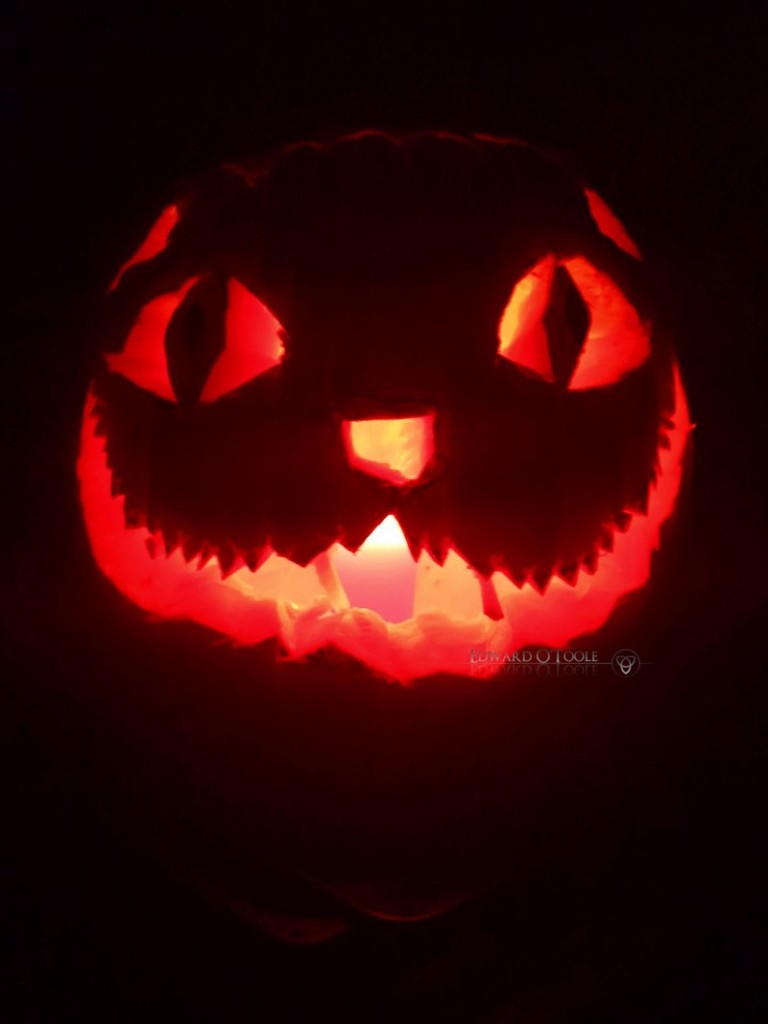 So, to answer the question "What to do during lockdown?", the answer is "A lot". It's been a fairly hectic couple of weeks, and for that I'm grateful. It's important to keep yourself busy and productive, and not to let yourself give up or have dark, lonely thoughts. There's always something you could be doing. And there's always something to try which you haven't tried yet.